Pelé Pequeno Príncipe Research Institute's studies seek to establish adequate radiation levels for children's exams
This research project already benefits Pequeno Príncipe Hospital's Imaging Center's patients
A group of researchers from Pelé Pequeno Príncipe Research Institute have been acting together with Pequeno Príncipe Hospital's Imaging Center to propose new appropriate levels of radiation for children's exams. "Currently in Brazil, there are no references for the radiation doses absorbed by children in diagnostic exams. We want to propose new criteria for pediatric exams in order to make them safer for our little patients," explained the research projects coordinator, Hugo Reuters Schelin.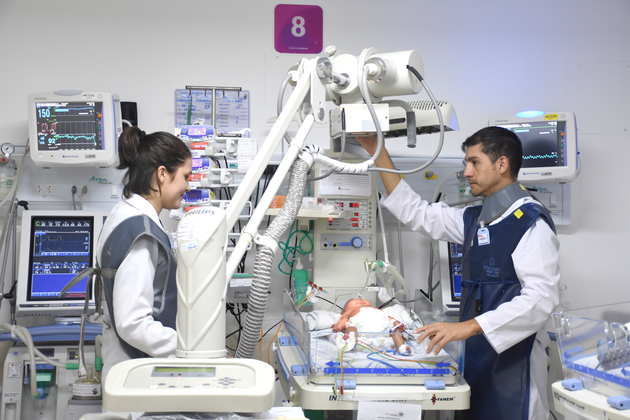 The research projects began in 2010. Since then, many studies have been conducted and processes have been adjusted to build a safer culture for patients and staff in radiological exams.
Beginning
One of the first studies was with contrasted exams, that show dynamic images on a monitor like a high quality film. Unlike conventional X-ray exams, which are fixed images, this exam shows details in movement and in real time of a specific body part. But for this type of exam, the patient has to ingest a contrast. In Pequeno Príncipe Hospital's Imaging Center, the contrast exams are very commonly used for the gastrointestinal and urinary tract.
The research project done by Schelin's team reduced the radiation doses emitted by these exams in almost 60%. "The radiation emitted wasn't out of the adopted range. But according to many international studies that we used as references, we saw that it was possible to reduce them, so we did. This is one of the differentials of a hospital that integrates assistance, education and research," he explained and emphasized.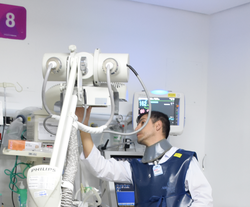 After evaluating the amount of radiation received by patients and technicians, work began with the Imaging Center, through many steps that varied from equipment adjustment to staff training. The fluoroscopy device was calibrated, which entailed the adjustment of tension, chain and direction of the machine's X-ray beams. Later, training sessions were conducted with the teams for them to perfect their processes.
Currently, research projects are being developed that involve the conventional radiology exams, Imaging Center's tomography and angiography, as well as image exams in the Neonatal and General Intensive Care Units.